NATURAL oils have been used for centuries for skincare and they offer a range of benefits due to their nourishing, moisturizing, and protective properties, and with Avila natural oils here with us in the 21st century, skincare is at the moment at its peak! Every woman, I'm sure, is familiar with natural oils; what we may not so much know is the enormously numerous benefits have for the good of a woman's skin and how far Avila Naturalle has gone in making those benefits available to us.
First, let's recap on the benefits of natural oils, then we review some of the world's very best natural oils and how good it feels they are natural oils proudly manufactured here in Nigeria by Avila Naturalle.
Benefits are of using natural oils for the skin
Indeed the benefits are numerous and before I go into the main topic, I will share these benefits here.
Moisturisation: Natural oils are excellent emollients that help to lock in moisture and prevent water loss from the skin. They create a protective barrier, keeping the skin hydrated and soft.
Nourishment: Natural oils are rich in vitamins, minerals, antioxidants, and essential fatty acids that provide essential nutrients to your skin. These nutrients are needed to help promote healthy skin function and overall skin health.
Anti-Inflammatory: Some natural oils have anti-inflammatory properties. They can help you soothe your irritated or inflamed skin and help reduce skin redness and swelling. That's good news for all we care as women! Skin irritations and inflammation do happen and combating any such situation with the power of natural oil seems to me the natural thing to do.
Anti-Aging: Yes, some other natural oils contain antioxidants that help protect your skin from oxidative stress caused by free radicals, which threatens your skin with lines and wrinkles.
Gentle and Non-Irritating: Natural oils are often well-tolerated by sensitive skin types and can be a gentler alternative to synthetic skincare products that may contain harsh chemicals or fragrances.
Even Skin Tone: Certain natural oils are known for their potential to help even out skin tone and reduce hyper-pigmentation.
Massage and Relaxation: Many natural oils are used in aromatherapy and massage due to their pleasant scents and soothing properties. Massaging the skin with these oils can promote relaxation and stress relief.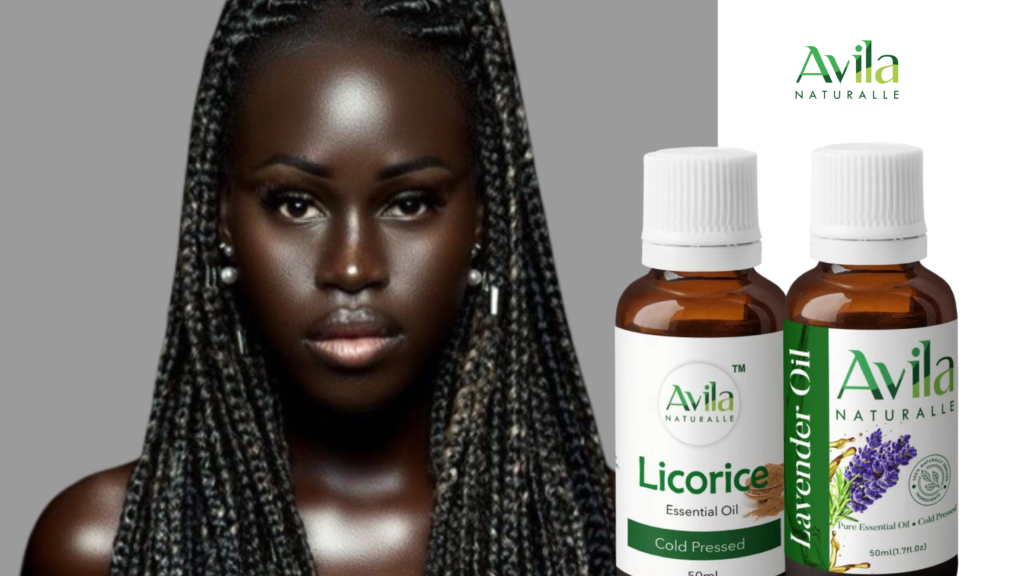 These benefits are what every woman wants in any product good for their skin and I'm sure we all agree. However, talking about natural oils, Avila Naturalle has been able to set the lines for true skincare value. Below I will share with you some of the best natural oils anywhere and all made by a same company; Avila Naturalle.
About Avila Naturalle and her superbly magical naturals oils
Avila Naturalle is Nigerian; in fact, very proudly Nigerian. The company is located at Alimosho, Lagos, but with presence in countries around the world, including US, Canada, UK, Ghana, and a host of others. With its natural oils, Avila Naturalle has some of the best natural oils a woman can find anywhere on earth.
Below are some of the topnotch natural oils Avila Naturalle has on its shelves:
Avila Aloe Vera Oil An anti-aging and skin moisturiser, reduces stretch marks, and promotes hair growth and reduce dandruff.
Avila Almond Oil Reduce Dark Circles. Cures Polarises and Eczema. Delay signs of premature aging. Helps the skin look smooth, soft and free of fine lines. Also contains fatty acids that helps the skin retain moisture and heal chapped and irritated skin. The Vitamin E and A in Avila Natural Almond oil keeps the skin looking supple and wrinkle free, giving a smooth and glossy shine.
Avila Morrocan Argan Oil nourishes the hair follicles and keep hair at optimal growth and maintenance. It makes for stronger strands and a healthier scalp. It is wonderful for hair and scalp massages and you get one-stop-shop with its ability to maintain a healthy scalp while strengthening your hair.
Avila Bitter Gourd Oil boosts the Immune system. Relieves pile. Also helps maintaining blood sugar level
Avila Castor Oil heals skin irritation. Deeply moisturizes the skin. Strengthens and grows hair.
Avila Chamomile Oil eases skin rashes and scarring. Effective for skin lightening. Makes the skin appear young, moisturized and blemish free.
Avila Cinnamon Oil is effective in promoting oral health. It helps hydrate dry and irritated skin. Deeply moisturises the skin.
Avila Clary Sage helps in the reduction of skin inflammation and skin irritations. Helps fight free radicals and tighten up loose skin. Great moisturiser that helps give a youthful and radiant skin
Avila Coconut Oil is a great skin conditioner especially for people with extremely dry skin. It deeply penetrates and moisturizes the skin
Avila Hibiscus Oil relieves sensitive skin, reveals a flawless skin and helps minimize grey hair.
Avila Frankincense Oil fades away acne, surgery marks, stretch marks, and other types of scars from the skin. It regenerates the skin. It cures wart. It cures dandruff and gives shiny hair.
Avila Eucalyptus Oil can be used to relieve dry and itchy scalp. Heals skin irritation and insect bites. Gives a soft, blemish-free healthy skin.
Avila Mint Oil is an anti viral agent for skin infection and wounds. Relieves dryness and itching. Promotes hair growth.
Avila Licorice Oil helps to diminish dark pigmentation. Natural skin lightening oil. Can control inflammation and skin redness.
Avila Clove Oil fights dental pain, tooth aches, sore gums and mouth ulcers. It can be used to treat cuts, wounds, infections and insect bites. It can be used as an effective remedy for ear aches.
Avila Naturalle skincare products generally are top numbers around the world. To discover more about Avila skincare solutions, visit www.avilaskincare.com.
Lastly, when using natural oils on your skin, it's important to consider your skin type and any potential allergies or sensitivities. Keep in mind that individual reactions to natural oils can vary, so it's advisable to consult with a dermatologist or skincare professional if you have any doubts or concerns.